Mitsubishi Ductless Systems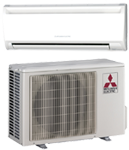 What is Duct Free?
For decades, split-zoning air-conditioning and heat pump systems have been the quiet solution for cooling and heating problems around the world. Our quiet and powerful systems have three main components: an indoor unit, outdoor unit, and remote controller. Installation is as simple as mounting the indoor and outdoor units, connecting the refrigerant lines, and making a few electrical connections.
New Energy-Efficient VRF Technology
Variable Refrigerant Flow (VRF) zoning is an energy-efficient method of providing precise comfort control to indoor environments. VRF offers a wide variety of applications - everything from spot-cooling or -heating a single room in a home (using a split-ductless system) to a large commercial building with multiple floors and areas (that require individual comfort control delivered by a split-zoning system).
VRF moves refrigerant to the zone to be heated or cooled, allowing the temperature of that area to be more precisely controlled. It can simultaneously cool some zones while heating other areas or just provide comfort control to zones that are in use. (Zones are single or multiple room spaces that are conditioned to a set temperature and are operated independently from other rooms within the same structure.)
Unlike other VRF systems, Mitsubishi Electric Cooling & Heating uses a two-pipe design which reduces the complexity, time and cost of installation with fewer refrigerant lines and connections.Depending on the design and needs of a building, Mitsubishi Electric Cooling & Heating VRF and split systems have fewer components than other HVAC systems, reducing initial equipment costs. Installation costs for VRF and split systems are also smaller-fewer components mean less time spent on installation, and lengths of small-diameter refrigerant piping are easier to install than lengths of ductwork.
Why Mitsubishi Electric Systems?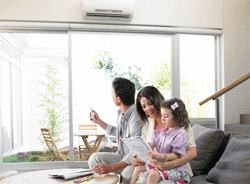 Our commitment to empower homeowners to create their own customized comfort is fueled by continual innovation and refinement. Here are some of the technologies that help cool and heat your home more efficiently and effectively:
Hot-start
The indoor unit's fan only blows air when the coil has warmed to the desired temperature. An energy-saving measure, it also prevents drafts of cold air at start-up.
i-see Sensor™
This sensor scans the room and adjusts temperature and airflow automatically. Maintain consistent comfort by eliminating cold and hot spots.
H2i® Technology
Hyper-Heating INVERTER (H2i) technology is designed to provide comfortable indoor temperatures in extreme cold-climate conditions (as low as -13° F) while saving energy and money.
Zone Control
Why cool or heat rooms you don't use? Why sweat or shiver in those you do? Zone control allows you to optimize the temperature of any space with an indoor unit to save energy and reduce costs. Create your own perfect comfort zones!
Quiet Operation
Indoor units run quiet as a whisper and outdoor units run quieter than a refrigerator. You have to hear it (or not) to believe it!
Enhanced Filtration Systems
Washable filters last up to 10 years and remove pollen, dust, dander and other allergens that reduce indoor air quality. Each room has its own filter to ensure pristine air.
Where Can Mitsubishi Electric Products Be Used?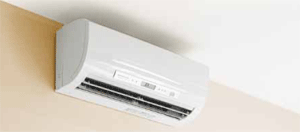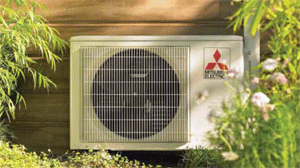 If a room is too hot or too cold, Mitsubishi Electric Cooling & Heating can handle it! Mitsubishi split-zoning systems are specifically designed to improve the comfort level in an uncomfortably hot or cold room of an existing building. Because they don't require ductwork, they're the perfect heating and cooling systems for renovating older buildings that were constructed before air conditioning was available - even those with plaster walls and brick facades. The versatility and variety of applications for Mitsubishi Electric systems are virtually unlimited. They're an excellent choice for almost any spot cooling or heating situation, including enclosed sunrooms, upstairs bedrooms, classrooms, hospitals, nursing homes, restaurants, hotels, workout rooms, computer rooms, offices and churches.
They're also equipped with an anti-allergen filter and prevent the cross-flow of air with contaminants. And because they can be controlled by zone, it's easy to set the controls for the exact room temperature you want.
How does it work? Mitsubishi Electric Cooling & Heating can fit into almost any space because their innovative engineering optimizes the capabilities of the INVERTER technology and R410A refrigerant for more efficient systems with smaller indoor and outdoor units. R410A refrigerant is environmentally friendly, with zero Ozone Depletion Potential (ODP). The units themselves are also made of recyclable materials.
Control at Your Fingertips, Anytime, Anywhere!