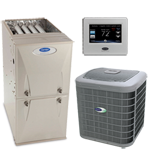 Your home comfort system is most likely the single biggest use of energy in your home. In fact, over a third of the energy used in the United States is used to heat and cool buildings. Having a properly designed and installed heating and air conditioning system will have the biggest impact on your energy costs.
Choose Jim's Heating & Cooling for your next equipment upgrade or replacement. We provide:
Free in-home consultation with one of our HVAC specialists.
Help selecting an energy-efficient heating and air conditioning system that meets your comfort preferences and lifestyle.
Proper sizing of the equipment to meet the unique needs of your home.
A convenient way to pay for your installation through our flexible financing options.
Full factory warranties on all equipment and labor.
Ameren Missouri Act On Energy Rebate Program
Ameren Missouri offers cash rebates for a variety of energy-saving upgrades on heating and cooling, efficient products, and more. Tuning up or upgrading your heating and cooling systems helps you stay comfortable without wasting energy - plus you'll get cash back. Jim's Heating & Cooling is a participating contractor in the Ameren Missouri Act on Energy program.
There are 3 ways we can help you save:
A diagnostic tune-up keeps your bill lean and prevents untimely breakdowns. Jim's Heating & Cooling will measure your system's performance and optimize it for maximum energy efficiency.
Choosing a new air conditioner with a SEER (energy efficiency) rating of 14 or higher will help you conserve energy even in the hottest weather. You qualify for a bigger rebate if your current system is still working.
An air-source heat pump is an incredibly efficient way to heat your home in winter and cool it in summer. Choose one with a SEER (energy efficiency) rating of 14 or higher to qualify for cash back.
Watch the video below for an explanation of the Ameren Efficiency Analysis program.